Every farmer or farm manager faces a lot of questions. This includes developing a farm's strategy, searching for right proxies and anti-detect browsers and etc., choosing tools, and many others. And all this greatly affects the result. That's why we've decided to organize a small series of articles in which we'll tell you about consumables, tools and in general about infrastructure. You can apply this information to any related projects. 
We will tell you about our experience of using these tools in various projects of different scale and direction. 
For quality work with a large amount of accounts, we need a good computer or server. We recommend to take the server so that you don't have to deal with on/off/noise/internet interruptions, etc. That is why we always take a server for our projects. There are two options for small farms of up to 50 accounts at a time – a virtual server (vds) and dedicated server for the projects of 50+ accounts at a time. 
Virtual Dedicated Server is a type of hosting, in which one physical machine is a set of dedicated hosts. That is, the provider gives the customer the use of his resources. Among the main advantages of VDS are:
Variety of configuration options.

High level of security.

The ability to quickly change the RAM.

Choice of tariff plan depending on project needs.
By experience we take virtual servers on ServerDale hosting for small projects. In 5 years of cooperation we have never failed. The pluses are the immediate installation of the Windows, the servers are ready to go in 15 minutes, and the low price tag.
Dedicated server (DS) is a separate physical machine that the customer can rent from the provider. That is, all the resources go to one project, the user has access to remote configuration BIOS. Among the main advantages are:
Direct access to all hosting capacities.

Possibility to adjust the configuration and software of the equipment by yourself.

Tracking of all user actions, processes and files.

Possibility to independently download software and install only important programs.
We have worked with many companies on dedicated servers. But we decided on Hetzner. (You will get €20 in cloud credit if you register with this link) Great servers and level of support. I recommend to take servers at the auction and install the windows yourself (although they have an option to have them install, but it's expensive and pays monthly).
PowerVPS.ru sells inexpensive but powerful dedicated servers and Windows VPS in France and Russia. The prices are affordable, and the quality, speed and power of the servers are also on point. Among these pluses you can add an increased level of security, privacy of personal data and quick technical support. 
And now about the main characteristics and capabilities of these three servers we will show in the table: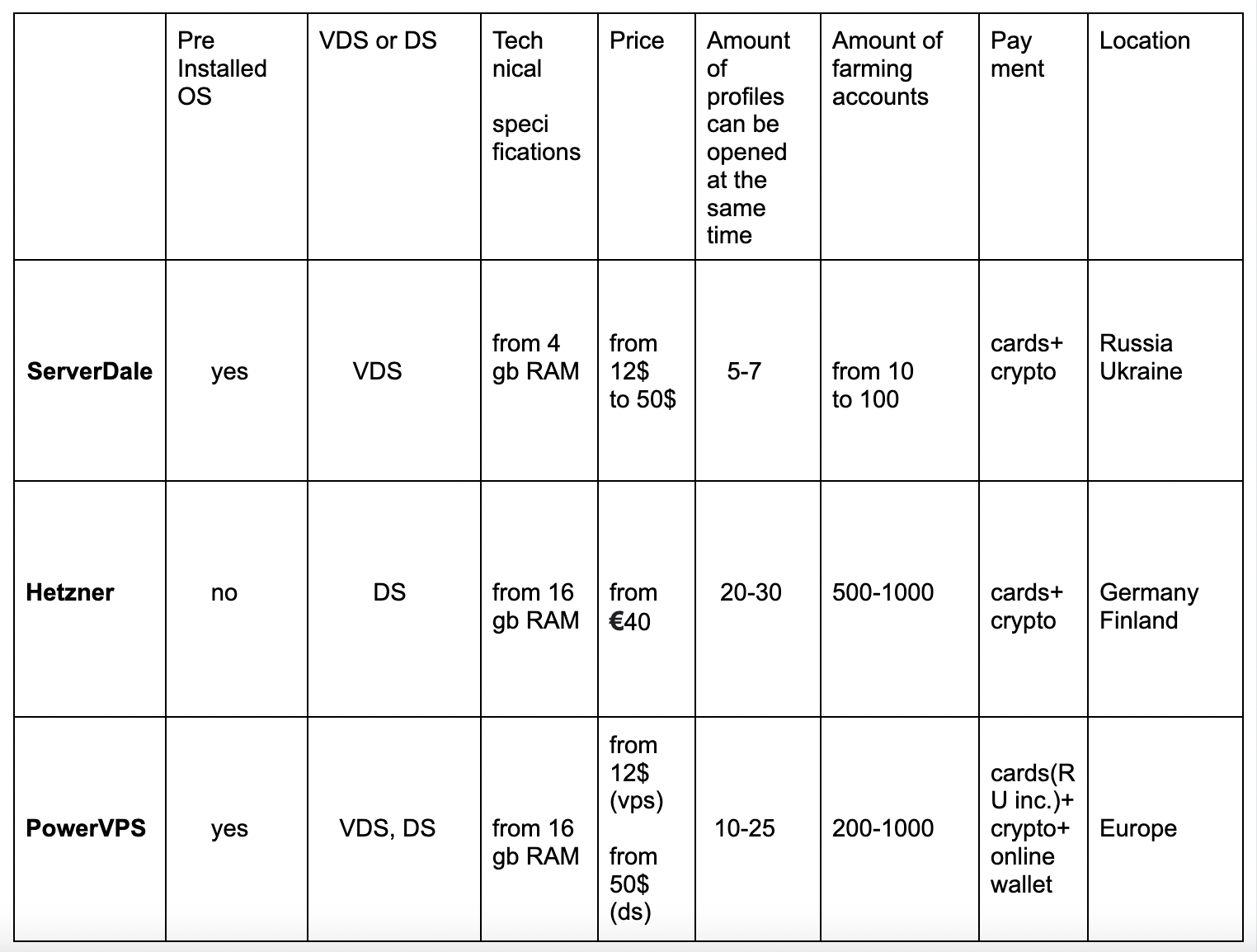 Over many years of work for our projects we have used a variety of anti-detect browsers. So it's hard to say which one is the best. Most likely, you need to select the anti-detect for different projects. 
Let's start with the history. Initially, all the projects were done on the Incogniton anti detect browser. 
Does not take much RAM. Fairly easy to implement API. Price is quite moderate. This is what they write about it in reviews: "An anti-detect browser that allows you to work with multiple browser profiles at the same time. Incogniton can become an indispensable tool for those who have to work simultaneously with many accounts on different sites and social networks. Now you do not have to worry about preserving your anonymity online, as well as possible bans and blocking.
Supports Windows and Mac OS;

Supports proxy types: HTTP, Socks 4 or Socks 5; 

Ability to create a large number of profiles at once;

Convenience for teamwork;

Simple interface".
It has a free version for 10 profiles and you can try how much functionality you will get. If you decide to use it, so use our promocode SCENUM20 and get a 20% discount on your first payment. 
Next we decided to check out AdsPower. There was a very interesting history of cooperation with this company. Did a lot for each other in terms of integrations. Great API and wonderful solution in the form of Application Center, where you can add your own extension. Very convenient way to install the extension in all the profiles and generally creating and editing profiles through templates.
Register in AdsPower, enter promo code SCENUM and get the best conditions and the maximum support from us and from the AdsPower team.
Almost at the same time on the market appears anti-detect browser Dolphin. It immediately earned its place under the sun with great innovative ideas and speed. We remember the times when it had to compete with powerful anti-detect projects and it has always been distinguished by its creative approach and customer orientation. No matter what, the guys are constantly sawing updates and improving functionality. We really like their API and how their proxies are organized. 
As you may have guessed by now they have great partnership options for you – use promocode SCENUM and you will get 20% discount on your first payment. 
We're constantly plugging in new anti-detect browsers and that's great! 
The last anti-detect browser with which we implemented full integration is Gologin. It is an excellent performance option, both in terms of functionality and price. Of the features – we really like the feature of grouping profiles and installing extensions only on a separate group. And otherwise it works like clockwork!
Register and add promocode SCENUM and get 14 days of free use of the service. 
Today we have told you about the important details in the infrastructure of the affiliate manager, considered in detail the possible server resources and useful functions of the anti-detect browsers. In the next article, we will discuss other important points such as proxies, sms-services and more.